Attualità
Bozza del decreto inviata dalla Regione Lombardia: lo riporta la CNN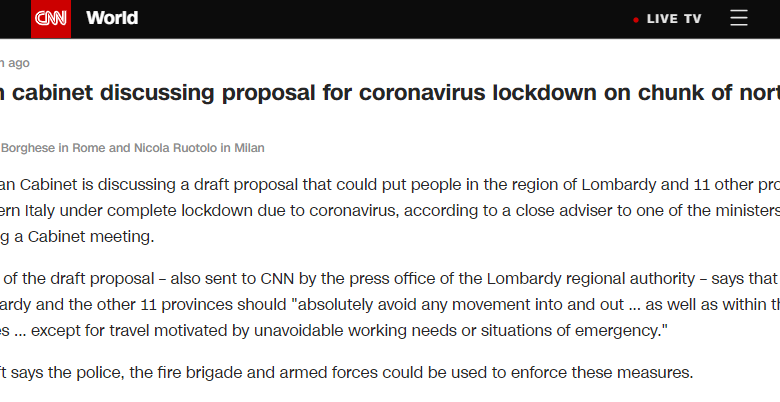 La notizia arriva dalla CNN: la bozza del decreto sarebbe stata trasmessa dall'Ufficio Stampa della Regione Lombardia. Proprio la diffusione della notizia ha causato la fuga dalle zone a rischio del nord
La bozza del decreto sarebbe stata diffusa dall'Ufficio Stampa della Regione Lombardia. La notizia, diffusa dalla CNN, fa ovviamente il giro del web causando le ire degli utenti social. Proprio la divulgazione della bozza ha causato la fuga dalle regioni del Nord Italia di chi ha deciso, violando le prescrizioni oltre che il buon senso, di tornare a casa e raggiungere le regioni del Sud, costrette ad ordinanze lampo per provare a contenere il rischio contagio.
"The text of the draft proposal – also sent to CNN by the press office of the Lombardy regional authority – says that people in Lombardy and the other 11 provinces should "absolutely avoid any movement into and out … as well as within the same territories … except for travel motivated by unavoidable working needs or situations of emergency." Questa una parte di quanto si legge online.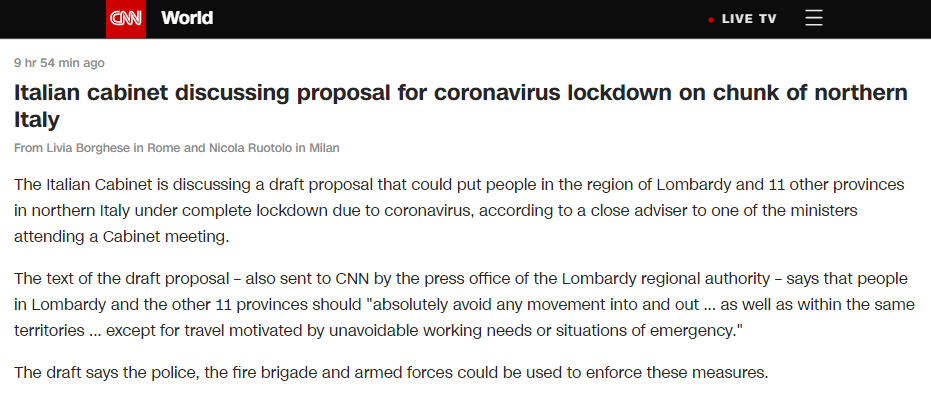 Toccherà ora capire da dove sia partita la bozza che tanto clamore sta causando in queste ore. Se fosse vero quanto riportato dalla CNN la notizia avrebbe del clamoroso. Anche perché la diffusione delle decisioni che stava per assumere il Governo ha comportato la partenza, dalla "zona rossa" di un discreto numero di persone in grado di "esportare" il contagio in altre zone del Paese. La certezza, ovviamente, non c'è (anche se la CNN sembra non avere dubbi).